May 31 – June 1 2021
Ghent, Belgium
Dear Fusarium researchers, dear colleagues, dear friends!
Covid-19 is having an undeniable impact on our lives, both privately as professionally. On behalf of the local organizing committee we hope you and people close to you stay healthy. Taking into account the latest developments concerning the spread of new variants and the speed of vaccination in different countries we do not believe we are be able to host a safe European Fusarium Seminar guaranteeing no infection risk. However, given that the last edition of the EFS already took place 3 years ago in Austria and that research concerning Fusarium kept ongoing, another cancellation would not be opportune. Therefore we are excited to announce the first online edition of:
15th European Fusarium Seminar
May 31 – June 1, 2021
While we will surely miss the networking events, the opportunity to see new faces in the Fusarium research field, and of course the social events, we believe an online event also provides several advantages. People attending will not be limited by travel, presenting your research will reach a bigger audience from all over the world. Therefore, we are making a broad appeal to people from all over the world to register for this seminar at the very economical price of 90€. Even though we will be far apart, special attention will be paid to maximizing the interaction between attendees and research groups.
We are delighted to announce following invited speakers: Kim Hammond-Kosack, Theo van der Lee, Antonio Moretti, Maarten Ameye, Zhang Hao, Rainer Schuhmacher, Martijn Rep and Fiona Doohan.
Important dates:
Abstract submission open: 15/03/2021
Abstract submission closed: 23/04/2021
Registration open: 15/03/2021
Registration closed: 17/05/2021
We are looking forward to welcome you at the 15th European Fusarium Seminar online.
For more information visit https://mytox.be/conferences/
Geert Haesaert, Kris Audenaert & the EFS15-organizing committee
SCOPE
Topics
The congress is open for all contributions related to the following general topics in mycotoxin research:
Integrated Fusarium management
Fusarium-host interaction
Bio-informatics
Genetics of host and pathogen
Secondary metabolites
PROGRAM
PROGRAM
The preliminary program can be found here. People who have subscribed to the 15th European Seminar will receive a link to the web app of the conference. This web app will be used to follow the online presentations, consult the abstract book and network. If you missed a presentation, this web app will also host a recording of the presentation up to one month after the 15th European Seminar.
CONFIRMED SPEAKERS
Rainer Schumacher: Head of the working group metabolomics and bioactive compounds, University of Natural Resources and Life Sciences, Vienna, Austria
Theo Van der Lee: Senior researcher phytopathology at Wageningen Plant Research, Wageningen, The Netherlands
Martijn Rep: Chair of Molecular Pathology at the Swammerdam Institute for Life Sciences, University of Amsterdam, The Netherlands
Kim Hammond Kosack: Principal Research Scientist Plant Pathology and Deputy head of Bio-interactions and Crop Protection Department, Rothamstead Research, Harpenden, Great Britain
Antonio Moretti: Senior Researcher at CNR- ISPA in Bari, Italy
Zhang Hao: Chinese Acad Agr Sci, Inst Plant Protect, State Key Lab Biol Plant Dis & Insect Pests, Beijing, Peoples R China
Fiona Doohan: Senior lecturer at the University College Dublin, School of Biology and Environmental Science, Dublin, Ireland
Maarten Ameye: Postdoctoral scientist at the Department of Plants and Crops at Ghent University, Belgium

SPECIAL ISSUE - TOXINS
From the submitted abstracts, a selection will be made by the scientific committee to appear in a special issue of Toxins. This journal is highly regarded in the field of mycotoxins and obtained an impact factor or 3.895 in 2018. It is ranked as a Q1 Journal in the JCR® Categories Food Science and Technology (rank 19 out of 135) and Toxicology (rank 14 out of 93).
ORGANIZING & SCIENTIFIC COMMITTEE
Organizing Committee:
Chair: Haesaert Geert, Ghent University, Ghent, Belgium
Co-Chair: Audenaert Kris, Ghent University, Ghent, Belgium
Ameye Maarten, Ghent University, Ghent, Belgium
Bekaert Boris, Ghent University, Ghent, Belgium
De Boevre Marthe, Ghent University, Ghent, Belgium
De Gelder Leen, Ghent University, Ghent, Belgium
Derycke Veerle, Ghent University, Ghent, Belgium
De Saeger Sarah, Ghent University, Ghent, Belgium
Dewitte Kevin, Ghent University, Ghent, Belgium
Höfte Monica, Ghent University, Ghent, Belgium
Scientific Committee:
Bob Proctor, USDA, Peoria, USA
Kim-Hammond Kosack, Rothamsted Research, Rothamsted, United Kingdom
Theo Van Der Lee, Wageningen University & Research, Wageningen, The Netherlands
Emmerson Del Ponte, UFV, Viçosa, Brazil
Florence Forget, INRA, Bordeaux, France
Ingerd Skow Hofgaard, NIBIO, Ås, Denmark
Donald Gardiner, CSIRO, St. Lucia, Australia
Antonio Logrieco, ISPA, Bari, Italy
Antonio Moretti, ISPA, Bari, Italy
Simon Edwards, Harper Adams University, Newport, United Kingdom
Altus Viljoen, Stellenbosch University, Stellenbosch, South-Africa
Anne Van Diepeningen, Wageningen University & Research, Wageningen, The Netherlands
Paul Nicholson, The John Innes Centre, Norwich, United Kingdom
Fiona Doohan, University College Dublin, Dublin, Ireland
Zhang Hao, CAAS, Beijing, China
Gerhard Adam, BOKU, Tulln, Austria
Rainer Schumacher, BOKU, Tulln, Austria
Aibo Wu, SIBS, Shanghai, China
REGISTRATION
Registration for the 15th EFS is open from 15/03/2021. There is one registration fee (90€) and register before 17/05/2021 via this link.
IMPORTANT DATES
Abstract submission open: 15/03/2021
Abstract submission closed: 15/04/2021
Registration open: 15/03/2021
Registration closed: 17/05/2021
CONGRESS VENUE
The Aula
In the Aula, the welcome reception and Keynote talk by Professor Dirk Inzé will be held on Sunday 24 May, 2020. The Aula Academica of Ghent University was established in 1826 not long after the foundation of Ghent University on October 9, 1817. It was built in a neo-classicistic style. The façade was based on the pantheon in Rome. To date, the official logo of Ghent University is a simplified representation of this aula as the symbol of the first official building of Ghent University.
Congress venue: Convention Centre 'Het Pand'
The EFS15 will be held in the rooms Refter and the Kapittelzaal in the historic building: Het Pand. Het Pand is an old Dominican monastery located in the heart of the city on the banks of the river Leie, near the medieval port with the guildhalls as its remnants. The monastery was used as a Calvinist university until 1584. The establishment of the monastery is spread over more than 5 centuries, the countless extensions and modifications show the busy activity of the order in the inner city.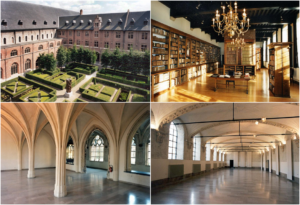 VENUES SOCIAL EVENT
Unfortunately, we will not be able to perform this due to Covid-19.
In the afternoon of Wednesday 27/05/2020 we will offer you the opportunity to visit the historical city of Bruges for a guided tour and a symposium dinner in the Rodenbach brewery.
City of Bruges
Bruges has been named a world heritage site by UNESCO in the year 2000. Because of the rich cultural history and its cozy atmosphere Bruges offers, it is one of the most visited cities in Belgium. Famous for its canals, it is also dubbed the "Venice of the North". By walking through its winding streets paved with cobble stones, you get transported back into time. The earliest mentions of the name 'Brugge' date back to the 9th century. Thanks to its strategic location and its economic importance, the city of Bruges became cultural capital of north western Europe from the 13th until the 15th century.
The Rodenbach brewery: Feestzaal Ter Eeste
The Rodenbach brewery was established by the Rodenbach family in 1821 in Roeselare. The beer owes its unique quality and masterful character to the oak casks in which it matures. Rodenbach is the archetypical Flemish red-brown ale from West Flanders. Recognised as a regional product, it is the most award-winning beer in the world.
The symposium dinner will take place in room 'Ter eeste' which is located in the brewery of Rodenbach. It is an industrial setting with a warm atmosphere. The name 'Ter Eeste' refers to the 'moutast', a building with conical rooftop that was conceptualized to efficiently dry malt. This building is an example of industrial architecture from the 19th century.
ACCOMMODATION
Unfortunately we will not able to organize this due to Covid-19.
The conference will be held in the city centre of Ghent. Numerous hotels, indicated on the map below, are available within walking distance of the convention center 'Het pand'.
CONTACT
Congress secretariat:
Tel. +32 (0)9 264 81 34
E-mail: info@mytox.be